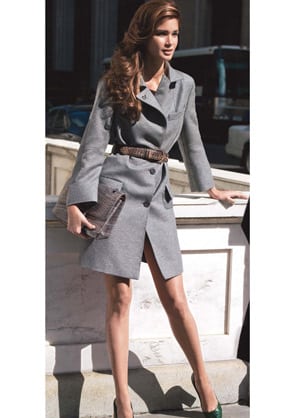 Obviously there's more (a lot more) to finding gainful employment than great looks. But you'd be surprised how much appearance can count when it comes to making a spectacular first impression in an interview. For example, let's see….a Chinese company insists that its hires have gorgeous ears. (The firm says they want to make sure a worker's appearance won't have a negative effect on customers. What?!) But back to normalcy, when we also came across the news that Privé salons in LA and NYC are now offering a $95 Interview Prep package [that includes beauty services in addition to career placement assistance, we started thinking about professional grooming, if you will. Here are five tips to keep in mind.
1. Leave the blue eyeshadow back in the 80's where it belongs. We know that nods to this decade were all over Fashion Week, but unless you're applying for a runway gig at Ford (the modeling agency, not the car company), do not attempt trendy, distracting makeup. Neutrals applied with a light hand are better.
2. Watch the hair. It sounds obvious, but wet hair that's tucked into a scrunchie is not going to score you any points. If you can't afford to get it professionally dried and styled (um, cuz you're unemployed), dry it yourself, smooth flyaways with a light cream, and clip it into a sensible low ponytail or bun. Big, wild hair is not an option. It's an interview, not a date.
3. Get the right kind of manicure. The old HR adage that neatly groomed nails say a lot about an applicant still rings true, but just because they're polished… We've seen some pretty wild stuff lately: For example, black nails were cute on young starlets on the red carpet last year, but the look is a definite interview no-no. (Ditto for the French manicure. Seriously.) Short, clean, peeling cuticle-free nails that are either buffed or painted in a nude shade are the way to go.
4. Avoid the last minute facial. Like your nails, the state of your skin speaks volumes about you, even though nobody has control over pesky hormones and genes. But acne or undereye circles can work against you, and facials can irritate any sensitive skin condition. Instead of piling on the blue shadow (see above), moisturize dry skin, mattify for oily types, and use a luminizing foundation to fake a healthy glow. Secret weapon: Amazing Concealer, $42, which subtly covers every flaw.
5. Don't make them want to smell you later. Perfume can be beautiful and elegant. But so many people are allergic to everything these days, and besides, overwhelming scent is way distracting. Better to smell like soap, if anything. You can always spritz on the Fracas when you actually score the job.
PHOTO: MICHAEL THOMPSON
Story from: Allure, The Daily Reporter