5 Things to Do Before Your Gynecomastia Surgery
Posted November 02, 2020 in Gynecomastia
2 Minute Read: 
For women, breasts are natural and beautiful. But most men don't view enlarged breasts as a desirable feature for their own bodies. When this condition causes embarrassment and discomfort, a gynecomastia surgery may be the solution you are seeking.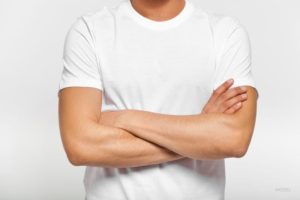 How Do I Prepare for Gynecomastia Surgery?
A male breast reduction surgery isn't a one-size-fits-all procedure. The technique used depends on your breast tissue and the specific issues you're struggling with. Making this determination is one of the first steps on the road to a gynecomastia surgery and getting the chest you will be proud to show off.
1. Determine What Type of Breast Tissue You Have
Overdeveloped male breasts have various causes. You may have excess breast tissue, fat, or a combination of both. Loose skin around your areola—the connective tissue beneath your skin—can also appear as full breasts. Consult with your plastic surgeon to make this determination. 
Dr. Hochstein will perform liposuction, excision, or a combination of surgical methods to address these problems.
2. Change Your Diet and Exercise Routine During the Six Weeks Before Surgery
Good nutrition and regular exercise support a healthy you. These activities also promote weight loss before and healing after your surgery. If fat is a contributing cause for your gynecomastia, diet and exercise can reduce the size of your breasts—and the less invasive and extensive your surgery, the better.
3. Check Your Current Medications
Some medications cause enlarged breasts in men. A few common examples are anabolic steroids, prostate cancer anti-androgens, antiretroviral AIDS therapies, and some antidepressants, anti-anxiety drugs, and antibiotics. 
Be sure to review the side effects of all the drugs you're on. If any of your medications have a gynecomastia side effect, talk to your prescribing doctor about possible alternatives to prevent the recurrence of this effect after surgery.
4. Prepare Your Recovery Plan
You will need recovery time after your procedure, including about two weeks of avoiding strenuous activity. Schedule time off work if needed to meet your post-surgical restrictions. 
5. Complete All Requested Medical Tests
Complete all your lab work as ordered. These tests can alert your surgeon to potential risks of surgical complications. Conditions like anemia or a clotting disorder can be very dangerous during an invasive procedure. A blood test will identify these issues early.
How Can I Learn if Gynecomastia Surgery is the Right Choice for Me?
Dr. Hochstein performs male breast reduction surgery in Miami, Florida, for men who are embarrassed, anxious, or unhappy with their large breasts. 
If you have fatty breast tissue, glandular tissue development, puffy nipple-areola complex, or other issues with your chest area, contact Dr. Leonard Hochstein. Call 305-931-3338 or request a consultation for gynecomastia surgery online. Out of town? No problem, consider a virtual consultation.