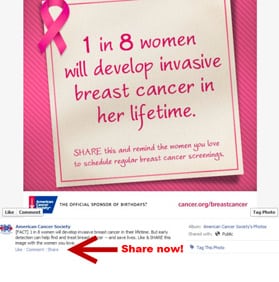 We're kicking off National Breast Cancer Awareness month with our most powerful ally: YOU!
The sad fact is 1 in 8 women in the U.S. will develop invasive breast cancer during her lifetime. But early detection can help find and treat breast cancer sooner, and that could help save a life.
That's why we want to fill the Facebook newsfeeds of everyone you know with a simple reminder: Get screened regularly for breast cancer. If you post this image and two people see it and share it, another ten people will see it. Let's blanket Facebook with this one image and impact hundreds of thousands of lives.
If you care about the health of your friends, family and loved ones, share this image and spread the word about breast cancer screenings.
That 1 woman in 8 who will develop breast cancer — she could be your wife, your mother or your best friend and she's the reason why we're working to raise awareness about how breast exams and mammograms can increase the chances of detecting breast cancers early. Here's what we recommend:
Women 40 and older should have a mammogram and a      clinical breast exam every year.
Women in their 20s and 30s should have a clinical      breast exam about every 3 years.
All women should report any changes in their breasts to      a doctor right away.
The guidelines only work if people follow them. That's why we need your help to spread the word.
Share the image on Facebook right now, and you could save a life!
Not on Facebook? No problem! Just click forward and share this image with your friends and family via email!
Please stand with us in the fight against breast cancer. With just two clicks, you can make sure every woman in your life knows what she needs to know.
Thanks for all that you do.
Sincerely,
Your American Cancer Society
P.S. Want a reminder every year about scheduling your breast cancer screenings? Sign up for your own annual breast cancer screening reminder and we'll send you an email each year with our latest guidelines. Detecting breast cancer early increases your chances of survival. Please don't wait.
Throughout October, Fitbit will raise awareness and funds in the fight
against breast cancer through the sale of its new pink Fitbit Flex wristband.
The American Cancer Society will receive $10 from every pink Flex sold on
fitbit.com and in Apple stores.