One of the most popular breast implant manufacturers, Allergan™, has recently pulled several of its products after finding an alarming link to a rare type of Non-Hodgkins lymphoma, setting off fears about the general risks of a breast augmentation surgery and implants.
As the recall rolls out, surgeons are asked to no longer use these implants for surgery and the company is offering replacements for former and current patients. Here's what to know about the recent Allergan™ implant recall and how it may affect you.
Allergan™ Implants Recall: What Are the Facts?
Allergan™ voluntarily recalled its BIOCELL® textured breast implants after they were recently found to have a link to increased rates of breast implant-associated anaplastic large cell lymphoma (BIA-ALCL), a rare form of cancer that develops around breast implants.
The FDA based their findings on product reports that showed rates of anaplastic large cell lymphoma have spiked.
Of the 573 cases of anaplastic large cell lymphoma reported as of July of this year, approximately 83.9 percent were linked to Allergan™ implants, particularly its BIOCELL® line.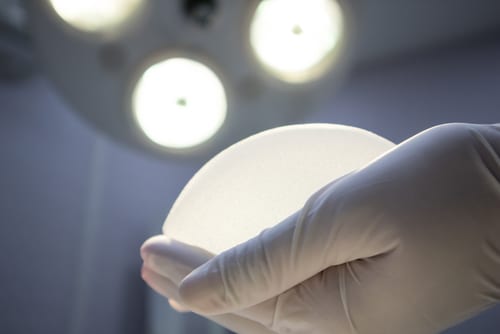 What Is Anaplastic Large Cell Lymphoma (BIA-ALCL)?
This breast implant illness is a Non-Hodgkins lymphoma that attacks the body's immune system. Symptoms may start to develop within a year after receiving an implant, but on average, BIA-ALCL is detected within eight to 10 years later.
Symptoms of BIA-ALCL include:
Swelling or asymmetry in the breasts
Pain or tenderness
Lumps
Fluid pooling around the implant
Breast hardening or changing shape
If detected early, anaplastic large cell lymphoma is easily treatable. The breast implant will have to be removed, along with any scar capsules, lumps, or other abnormal growths. Further treatment is usually not needed but may be performed for cases that have advanced along in the condition.
Textured Implants and Cancer
BIA-ALCL occurs when textured breast implants have been used. These implants are specifically designed to have a rough texture on the surface to make them less likely to shift or change position.
Some experts think the disease could be a type of allergic reaction to the textured surface. There have been no cases of BIA-ALCL found with smooth implants, according to ASPS.
But it's worth keeping in mind that BIA-ALCL remains extremely rare. With millions of breast implants currently in use, the total number of reported cases is still less than 500 cases as of July.
It may be worth looking into other types of implants to avoid the slight risk from textured surfaces. Dr. Hochstein does not use textured implants for a breast augmentation surgery, instead offering his patients several other options that offer equally beautiful results.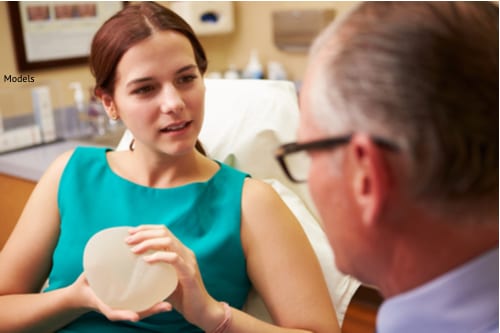 What Does The Allergan™ Recall Mean For Patients?
All Allergan™ textured implants affected by the recall are no longer available for sale or production. Surgeons should no longer use these implants for any form of breast surgery.
The company is offering some patients replacements if needed, but the FDA doesn't recommend removing or replacing BIOCELL® implants unless abnormal symptoms have occurred. Patients should consult with their surgeon if they have any health concerns.
Here is a list of recalled Allergan™ products:
Natrelle Saline breast implant styles 168, 363, 468
Natrelle and McGhan 410 breast implant styles LL, LM, LF, LX, ML, MM, MF, MX, FL, FM, FF, FX
Natrelle and McGhan 410 Soft Touch breast implant styles LL, LM, LF, LX, ML, MM, MF, MX, FL, FM, FF, FX
Natrelle 510 Dual-Gel styles LX, MX, FX
Natrelle INSPIRA breast implants, styles TRL, TRLP, TRM, TRF, TRX, TSL, TSLP, TSM, TSF, TSX, TCL, TCLP, TCM, TCF, TCX
Natrelle and McGhan Round Gel Implants, styles 110, 110 Soft Touch, 120, 120 Soft Touch
Natrelle Komuro breast implants styles KML, KMM, KLL, and KLM
Natrelle Ritz Princess breast implant styles RML, RMM, RFL, RFM
Natrelle 150 Full Height and Short Height double lumen implants
Natrelle 133 tissue expanders with and without suture tabs: styles 133FV, 133MV, 133LV, 133MX, 133SX, 133SV, T-133FV,
T-133MV, T-133LV, T-133MX, T-133SX, T-133SV, 133FV-T, 133MV-T, 133LV-T, 133MX-T, 133SX-T, 133SV-T
Natrelle 133 Plus tissue expander styles 133P-FV, 133P-MV, 133P-LV, 133P-MX, 133P-SX,
133P-SV, T-133P-FV, T-133P-MV, T-133P-LV, T-133P-MX, T-133P-SX, T-133P-SV, 133P-FV-T, 133P-MV-T, 133P-LV-T, 133P-MX-T, 133P-SX-T, 133P-SV-T
Any surgery comes with a certain amount of risk. Cosmetic surgery is no exception. Recalls such as Allergan™ are designed to minimize further risks from occurring.
Have more questions about BIA-ALCL or Allergan™ implants? Feel free to contact Dr. Hochstein's office at Info@LHochsteinMD.com or give us a call at 305-931-3338.