4 Minute Read:
Nothing shows the passage of time more than the presence of wrinkles and fine lines on your face, no matter how young you may [actually] be. These fine lines and folds in the skin can be caused by any number of factors, including age, lifestyle, and sun exposure.
Regardless of their cause, many men and women want their wrinkles gone. The good news is that there are several cosmetic procedures that help treat wrinkles on the face. While a facelift is ideal for treating significant lines, there are many alternatives to full plastic surgery that can give you the smooth skin you want without the hassle of surgery.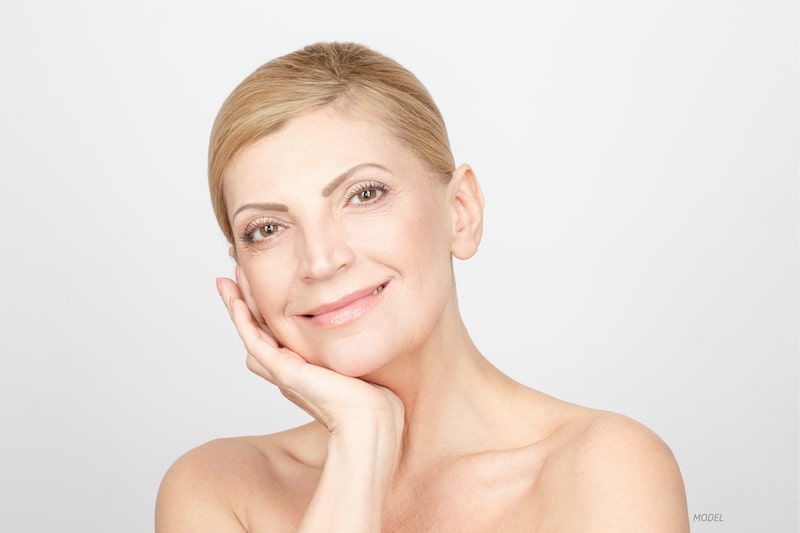 Why Would I Not Want Facelift Surgery?
While a facelift will give you great results, including smoother and firmer skin, it is a serious surgery that requires several incisions on your face, which means scarring. And while these incisions can be concealed in the hairline and behind your ears, these scars will still be there. Additionally, many men and women do not want to go under the knife or deal with accompanying aspects to surgery, such as anesthesia or recovery.
For patients who desire smoother and tighter skin but don't need a full facelift surgery, there are plenty of non-surgical or minimally invasive options to choose from.
If Not a Facelift, Then What Are My Choices?
At Hochstein MedSpa, we offer a variety of treatments and procedures to help eliminate unsightly wrinkles so that you can look younger, more alert, and friendlier.
In 2020 alone, over 15,500,000 non-surgical or minimally invasive cosmetic procedures were performed. This statistic goes to show how trusted and successful these treatments are.
Below are some of the options you have to get rid of those wrinkles and gain the comfort and confidence in your appearance that you deserve!
Broadband Light Rejuvenation (BBL™)
Broadband light rejuvenation (BBL™) is a laser treatment that uses light waves to get rid of damaged skin and stimulate collagen production and skin cell renewal. Collagen keeps the skin strong and firm, which means that an increase in collagen equals smoother and more youthful skin.
The great part about light rejuvenation treatments is that there is no pain during the session and minimal downtime afterward. Most patients require two to six treatment sessions, spaced four weeks apart to achieve optimal results.
2. Halo™ Laser Treatments
Halo™ laser treatments are similar to BBL™ in that both procedures use lasers to revitalize the skin; however, where BBL™ uses light to stimulate collagen production and smooth the upper layer of the epidermis (the top layer of the skin), Halo™ laser treatments penetrate the skin to the subdermal layers to rejuvenate the skin more completely.
With your Halo™ treatment, the collagen in your skin will be stimulated, which will remove wrinkles and fine lines so that you can look in the mirror and smile at what you see. These treatments generally last 30 minutes and require minimal, if any, downtime.
3. Chemical Peels
For your chemical peel, trichloroacetic acid (TCA) is used to remove the epidermis (the outer layer of your skin) to stimulate new skin growth and collagen production. After three or four days, the dead skin will fall away from your face, resulting in smoother, firmer, and more youthful skin. Your chemical peel treatment only takes 30 minutes. However, it is important to know that because of the nature of this treatment, you may have one week of downtime (though this is not bad at all when you consider that a facelift requires up to six weeks for recovery, and you will not have any scars on your face after your chemical peel).
4. PRP Microneedling
Microneedling is one of the most effective minimally invasive procedures for removing the appearance of wrinkles, fine lines, and other blemishes on the skin. For this procedure, extremely fine needles are used to create micro-injuries to your facial skin. This process stimulates both collagen and elastin production, which are responsible for the strength and firmness of our skin.
After the microneedling portion of the procedure is complete, platelet-rich plasma (PRP) can be applied to the injured skin to help speed up your healing and recovery time. PRP is processed blood taken from your body, and since it is your own blood, you can be sure that there is no risk involved. With PRP microneedling, you'll be able to show off your new, smooth skin in no time.
Want to Learn More?
If you suffer from wrinkles and want to get rid of them, then contact Hochstein MedSpa today to find out about our non-surgical facelift options. You can call our Miami office at 786-802-6699 or fill out our online contact form here.