4 Minute Read:
For decades, women have been looking at models and actresses' physiques, comparing their own bodies to what they see on screen. While it may not be healthy to dwell on this comparison, it can give you some inspiration for your own (realistic) body goals.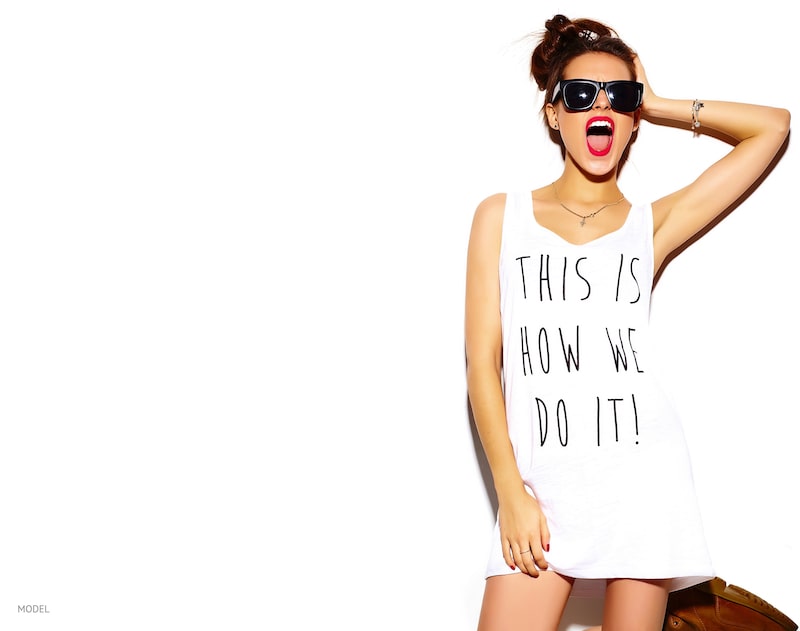 Many women turn to plastic surgery to achieve a body contour reminiscent of what they see on screen. And with cosmetic procedures, you don't have to be an actress or a model to look like one.
What Types of Cosmetic Surgeries Are Most Popular Today?
Breast and body contouring procedures and facial enhancement surgeries have been rising in popularity for the past decade and continue to grow. Some of the most popular cosmetic techniques are:
A breast augmentation
Liposuction
A tummy tuck
A Brazilian Butt Lift
A facelift
How Does a Breast Augmentation Work?
Many teenage girls grow up looking at models or flipping through Victoria's Secret advertisements. And all of those women have full, lifted, and beautiful breasts that complement and accentuate their entire figure.
Sadly, not every woman is born with the breasts they want—and this is likely even true about the models you see in advertisements and on runways. Many women choose to get a little "help" in the breast department. A breast augmentation is available to provide that help.
A breast augmentation uses silicone or saline implants to add volume, shape, projection, and cleavage to your chest. This cosmetic breast procedure is entirely customizable, allowing you to achieve the chest contour you desire.
When Can I Expect to See Results After Having Liposuction?
Models are known for their slim physiques and defined curves. Unfortunately, it isn't easy to spot-focus when attempting to sculpt your body contours. A liposuction treatment allows you to do so by letting you choose where you would like cells to be removed. Therefore, you can remove fat deposits in places you don't want it—like the abdomen—without losing it in areas where you might want a little extra—such as the buttocks or the hips—allowing you to maintain that hourglass figure.
For decades, liposuction has been the most popular fat reduction cosmetic procedure. It requires using special surgical equipment (a cannula attached to a vacuuming device) to suction unwanted fat from specific areas of your body. Once the procedure is complete, you can expect to see results within three months.
Why Should I Consider Getting a Tummy Tuck?
Whether in a bikini or a form-hugging dress, every woman wants a slim and toned midsection. However, the stresses of everyday life often have something else to say about that.
A tummy tuck (abdominoplasty) is a type of cosmetic surgery where excess, unwanted skin and fat are removed from the abdomen, and the muscles are tightened. You may consider a tummy tuck if you have had several pregnancies or lost weight rapidly, which resulted in loose, flabby skin.
How Is a Brazilian Butt Lift (BBL) Done?
Rounding out body contouring procedures common amongst models and actresses is the Brazilian Butt Lift (BBL).
During this fat transfer procedure, Dr. Hochstein suctions fat from an area of your body, such as the abdomen, thighs, or flanks, and injects it into your buttocks to add volume.
Fat transfer buttock augmentations reached the top ten list of plastic surgery procedures performed globally in 2016, according to the ISAPS Global Statistics, and allows all women to achieve their desired derrière.
What Happens During a Facelift?
Unfortunately, no matter who you are or what your job title is, the curse of aging features will come. As much as cosmetic companies try, there is no fountain of youth that will ensure that aging won't happen. It is inevitable, and all you can do is deal with the aging signs when they occur.
This can be accomplished with a facelift.
A facelift is a surgical procedure that helps create a younger-looking appearance. During your facelift, Dr. Hochstein gently tightens skin and underlying tissue from each side of your face to return your contour to its youthful shape.
Are You Ready To Look Like a Model?
Get ready to look like a star with a complete red-carpet-ready treatment performed by Dr. Hochstein, a renowned cosmetic surgeon in Miami with over 20 years of experience and training in performing many cosmetic surgeries. 
Find out more. Click here to contact us now or call us at (305) 931-3338.