4 Minute Read:
Thick, healthy hair is a sign of beauty and youth. Hair loss or thinning hair can greatly affect men and women, decreasing self-confidence and comfort.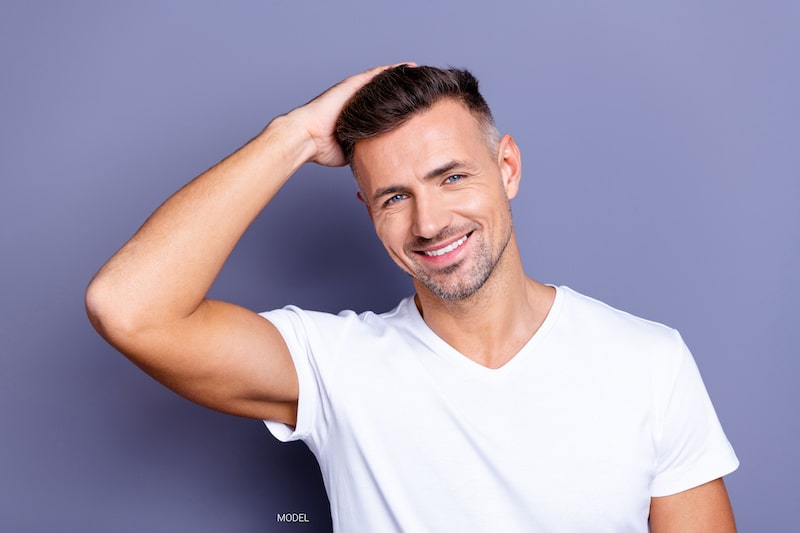 If you are suffering from hair loss, finding the right treatment is crucial. This is why Hochstein Medspa offers revolutionary hair loss treatments with platelet-rich plasma injections and clinically tested supplements to get you back on track.
So, You're Losing Your Hair: Now What?
You're not alone. Hereditary hair loss affects around 80 million people in the U.S., making this one of the most common aesthetic issues in the country. On top of that, stress is a huge factor in hair thinning or loss, so if your hair loss is stressing you out … you may actually lose more hair.
Stop the cycle! PRP injections from Hochstein Medspa can help.
What Is PRP?
PRP stands for platelet-rich plasma. Plasma makes up a part of your blood, while platelets are a type of blood cell responsible for your body's healing process. This by-product of your blood contains significantly high numbers of growth factors, and when used on the scalp, can help dormant hair follicles regenerate and begin to grow once again.
PRP therapy has been used in medicine for decades to help repair ligaments, tendons, muscles, and joints.
Now, PRP is used in multiple minimally invasive aesthetic procedures to revitalize and rejuvenate your face and body — including your scalp.
How Do PRP Injections Work?
Any PRP treatment begins with a blood draw: red blood cells, plasma, and platelets. This blood sample is put through a centrifuge, which spins it at high speeds to isolate your valuable plasma and platelets from the rest.
These resulting activated platelets can be injected into the treatment area to stimulate and increase the reparative cells in that area. When injected into the scalp, the underactive hair follicles in thinning areas are stimulated, resulting in less hair loss and eventual growth with thicker hair.
Who Can Benefit From PRP for Hair Loss Treatments?
Many types of hair loss can be reduced with proper treatment and early intervention. If you are concerned about progressive thinning or hair loss, PRP is a safe, natural, and effective solution.
Candidates for PRP for hair loss are concerned with their increasingly thin hair, generally healthy, and cleared for treatment by our Hochstein Medspa PRP technician.
PRP injections are a fantastic option if you are looking for a natural, non-surgical way to stop the progression of your thinning hair.
Can PRP Injections Be Combined With Any Other Hair Loss Treatments?
Your PRP specialist will determine the best treatment plan for your needs during your consultation. Pairing your PRP injections with a new hair care regimen and supplements designed to support hair growth is often recommended.
Nutrafol Vitamins
Some of the best aesthetic treatments work from the inside out — supporting your internal health to address external concerns.
Nutrafol vitamins are nutraceutical supplements clinically proven to improve hair growth. Just like your PRP injection treatments, your Nutrafol supplements are customized to target the specific requirements of your hair loss.
With Men's, Women's, and even Postpartum formulas, Nufrafol supplements target root causes of thinning hair naturally. They even have vegan formulas if that is a concern.
Additionally, you can supplement your hair loss treatment with topical shampoos, serums, and scalp exfoliators to boost results.
What About Stem Cell-Derived Exosomes?
Unlike PRP, which is taken from a patient's blood, stem cell-derived exosomes are created and activated in a lab. These exosomes contain higher amounts of growth factors than PRP and can help protect, restore, regrow, and revitalize the hair follicles. In addition to the growth factors, this serum also contains messenger RNA, micro RNA, and cytokines.
This serum can be used in place of or in addition to PRP to help regrow and restore hair.
Interested in PRP Injections for Hair Loss in Miami, FL?
Hochstein Medspa is overseen by world-renowned board-certified plastic surgeon Dr. Leonard Hochstein and provides cutting-edge minimally invasive and non-invasive aesthetic treatments.
If you are ready to stop your thinning hair and increase your confidence, call us today at (786) 802-6699 or fill out our online contact form to schedule your consultation with one of our experienced and knowledgeable aesthetic specialists.