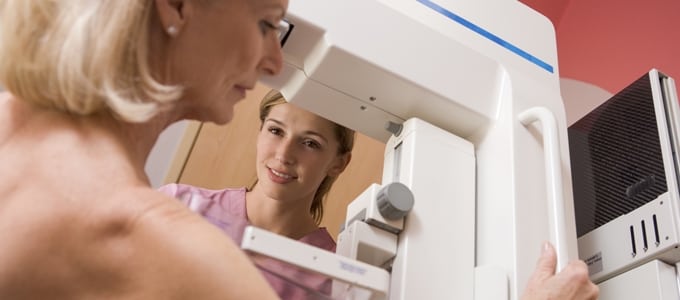 Leonard M. Hochstein, M.D., P.A. Newsletter
Dr. Hochstein urges women to schedule their yearly mammogram!
Every woman over the age of 40 should take time out of their busy schedule and schedule their annual mammogram. Your best defense against breast cancer is early detection.
Dr. Hochstein recommends the following breast cancer screening guidelines to promote early detection:
• Yearly mammograms are recommended starting at age 40 and continuing for as long as a woman is in good health
• Clinical breast exam (CBE) about every 3 years for women in their 20s and 30s and every year for women 40 and over
• Women should know how their breasts normally look and feel and report any breast change promptly to their health care provider. Breast self-exam (BSE) is an option for women starting in their 20s.
Digital Mammography
A mammogram is an x-ray examination of the breasts, used to detect and diagnose breast diseases. Screening mammography is used as a preventive measure for women who have no symptoms of breast disease.
This painless procedure does not squeeze or damage the implant as it uses computers and specially designed digital detectors to produce an image that can be displayed on a high-resolution computer monitor, and transmitted and stored just like computer files.
Breast implants can also impede accurate mammogram readings because both silicone and saline implants are not transparent on x-rays and can block a clear view of the tissues behind them, especially if the implant has been placed in front of, rather than beneath, the chest muscles. Experienced technologists and radiologists know how to carefully compress the breasts to improve the view without rupturing the implant.
From a patient´s point of view, having a digital mammogram is very much like having a conventional screen-film mammogram. Both film-based and digital mammography use compression and x-rays to create clear images of the inside of the breast. During all mammography exams, the technologist positions the patient to image the breast from different angles and compresses the breast with a paddle to obtain optimal image quality.
Unlike film-based mammography, digital mammograms produce images that appear on the technologists monitor in a matter of seconds. There is no waiting for film to develop, which can mean a shorter time spent in the breast imaging suite.
Mammography is a very safe procedure that uses low doses of radiation to produce high quality x-rays.
Benefits
• Imaging of the breast improves a physician's ability to detect small tumors. When cancers are small, the woman has more treatment options and a cure is more likely.
• The use of screening mammography increases the detection of small abnormal tissue growths confined to the milk ducts in the breast, called ductal carcinoma in situ (DCIS). These early tumors cannot harm patients if they are removed at this stage and mammography is the only proven method to reliably detect these tumors. It is also useful for detecting all types of breast cancer, including invasive ductal and invasive lobular cancer.
• No radiation remains in a patient's body after an x-ray examination.
• X-rays usually have no side effects in the diagnostic range.
For more information or to Schedule your Appointment please contact:
Comprehensive Breast Care Center
20601 E. Dixie Hwy #310
Aventura, FL 33180
305-931-1344
or
Comprehensive Breast Care Center
1380 NE Miami Gardens Dr. Suite 105
North Miami Beach, FL 33179
305-944-3132
Sincerely,
Leonard Hochstein