Jenya Titova, PA-C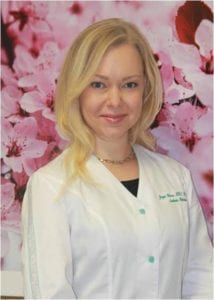 Jenya Titova, PA-C, comes to Hochstein surgery center with over 8 years of experience in a high volume, distinguished dermatology and aesthetic practice in New Jersey.  She graduated with Alpha Eta and Summa Cum Laude Honors, in the top five percent of her class from Drexel University in Philadelphia.  Since that day, helping patients reach their health and beauty goals has been a passion of hers.
Jenya is highly experienced in the fields of laser medicine, cosmetic fillers and neurotoxins and medical dermatology. During her career, she has helped patients remedy skin ailments that include psoriasis, rosacea and acne.  She has even led many roundtable discussions and presentations for Physicians and Physician Assistants at medical conferences on new and current psoriasis and acne therapies.
In the field of aesthetic medicine, Jenya set her skills apart from her peers by becoming an instructor for Aesthetic Mentors, where she trained physicians, new to aesthetic world, on techniques of enhancing patients appearance with cosmetic fillers and Botox.  She is skilled in the use of Restylane, Radiesse, Perlane, Sculptra, Xeomin and Dysport.  Jenya also specializes in BBL (Broad Band Light) Forever Young and Sclerotherapy for spider and varicose veins.
Jenya Titova's heritage enables her to offer patient care in Russian and Ukrainian languages, as well as her "European touch" and vision of beauty and health.  Jenya's philosophy is that the main key to any medical or aesthetic success is to actually take time and thoroughly listen to her patients desires and concerns first.   As she states, "Only through good communication top quality results are realistic and easy to accomplish.  With that, I know my patient is sure to leave happy and satisfied."