4 Minute Read:
While many aspects of our lives have started to return to normal after 2020, many people are still working from home. And this still means online meetings and video calls.
It's difficult to look your best on a computer camera. For starters, the camera is usually only 12 to 18 inches from your face (which is never ideal for optimal contours), your lighting is likely not studio quality, and your makeup routine might have "loosened" a bit. This is normal; however, it's also frustrating.
This frustration has led many to turn toward cosmetic treatments.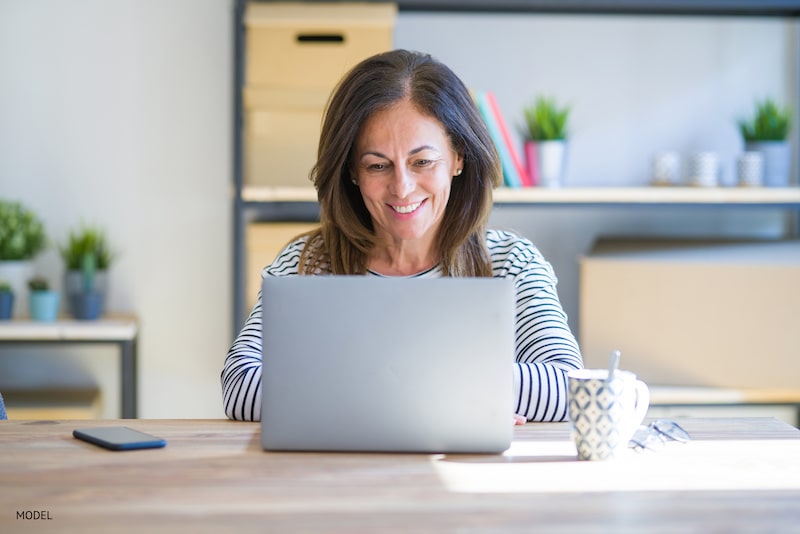 It's no surprise that some individuals find themselves unhappy with their appearance on Zoom.
This has led to what many in the cosmetic industry are calling the Zoom Effect. Fortunately, there are non-surgical solutions to this predicament.
Table of Contents
What Treatments Can Improve My Zoom Appearance?
PRP Hair Loss Treatment for Thinning Hair
Broadband Light Rejuvenation for Smoother Skin
Injectable Treatments for Younger Contours
What Is the Zoom Effect?
The term Zoom Ehttps://www.liebertpub.com/doi/10.1089/fpsam.2020.0454?utm_source=Adestra&utm_medium=email&utm_term=&utm_content=Click+here&utm_campaign=FPSAM+PR+Nov+13+2020+Zoomffect was coined to describe the dramatic increase in demand for facial cosmetic procedures over the last year. This increase has been driven explicitly by people seeking to improve their appearance on video conferencing apps. 
Since many people are working and socializing via Zoom these days, it's not surprising that they want to look good on camera. Unfortunately, webcams are not flattering.
Worse, people spend hours looking at their appearance on a screen, giving them ample time to pick apart every detail. This has led to a boom in facial cosmetic treatments.
What Treatments Can Improve My Zoom Appearance?
Most patients who want to improve their appearance on Zoom bring up similar concerns. These include hair loss, wrinkles, acne, gaunt features, and double chins.
Fortunately, the Hochstein Medspa offers treatments that can address these concerns.
PRP Hair Loss Treatment for Thinning Hair
Our Hochstein Medspa staff offers Platelet Rich Plasma (PRP) treatments to slow down and reverse hair loss. This procedure can help minimize hair loss and stimulate hair growth in both men and women.
PRP treatments can rejuvenate damaged or aging hair follicles and strengthen existing hair too. Patients will see their hair grow thicker, stronger, and healthier.
You can learn more about PRP treatments for hair loss here.
Broadband Light Rejuvenation for Smoother Skin
The Hochstein Medspa also offers Broadband Light (BBL™) treatments to address:
This treatment uses intense light pulses to stimulate collagen growth, improve skin elasticity, and remove blemishes.
This treatment is ideal for patients who want a treatment that addresses multiple cosmetic concerns at once. Better yet, light rejuvenation has virtually no downtime, so you don't need to worry about further restrictions during a recovery period.
After a BBL™, you should start looking good on Zoom within days.
Injectable Treatments for Youthful Contours
Neuromodulators
Sometimes our aging features are as small as crow's feet, frown lines, or forehead creases. When this is the case, simple neuromodulator injections can do the trick.
Injectables like BOTOX® Cosmetic, Dysport®, XEOMIN®, and Jeuveau™ can help smooth expression-causing wrinkles by blocking chemical signals that force the muscles to contract.
Dermal Fillers
While fine lines and wrinkles are one thing, some people notice that their onscreen appearance looks a little more gaunt than it used to, particularly around the cheeks and lips.
Dermal fillers, such as JUVÉDERM® and Restylane® product suites, can restore lost volume to the face, including the cheeks, nasolabial area, chin, lips, and nose.
KYBELLA®
It has always been said that the camera adds weight. And for some, that weight seems to settle just beneath the chin. Sadly, video conferencing apps seem to zoom in on submental fat — or the double chin.
Whether the double chin resulted from genetics or just from a less-than-healthy pandemic binge diet, KYBELLA® can help.
KYBELLA® is an injectable treatment that permanently dissolves unwanted submental fat.
Multiple injection sessions are required for optimal results.
Do You Want to Learn More About Facial Treatments or the Zoom Effect?
If you want to learn more about cosmetic treatments or the Zoom Effect, please call us at 786-802-6699 or contact us online. We can answer some questions over the phone or help you set up a consultation with our expert medspa staff.