3 Minute Read:
The idea of intentionally causing injuries to the skin can seem like a backward concept when it comes to improving the skin's health and quality. But that is the driving concept of microneedling treatments. And what's more: microneedling — also known as collagen induction therapy (CIT) — is one of the most effective and popular ways to achieve a better, healthier facial complexion.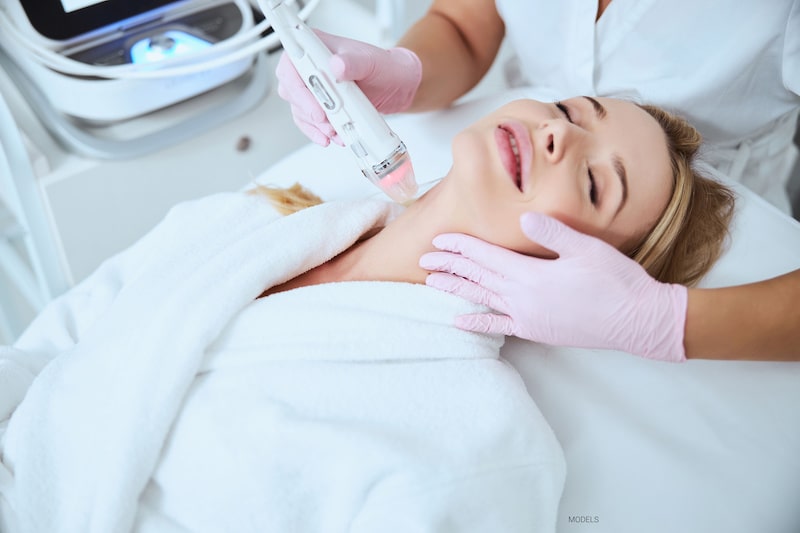 With microneedling, a handheld device is used to create a series of micro-injuries to the epidermis and dermis. This causes the body to naturally heal itself by promoting collagen production. In the end, microneedling can help patients restore the natural health and beauty of their skin to improve comfort and confidence about how they look.
The team at the Hochstein Medspa is proud to be on the cutting edge of cosmetic surgery and procedures. Because of this, they offer two revolutionary microneedling techniques that can create more comprehensive results with faster recovery time.
What Are My Microneedling Options?
While microneedling has been in practice for several decades, there have been improvements made to the procedure to help patients get the very best results possible. Some of these improved techniques offered at Hochstein Medspa in Miami include radiofrequency microneedling and microneedling with PRP.
Lutronic® Genius™ RF Microneedling
During a Lutronic® Genius™ RF microneedling treatment, radiofrequency energy (RF energy) is directed through the micro-injuries created by the needles to heat the underlying tissue in the dermis. This heat promotes collagen and elastin production to help patients achieve benefits to both the look and the feel of their skin.
Microneedling With PRP
PRP (platelet-rich plasma) is one of the most effective ways to help promote healing in the body. In fact, PRP is effective for hair loss as well as skin improvement.
What makes PRP even better is that PRP is taken directly from your own blood, so there are no foreign substances being used to help you achieve clearer and smoother skin.
After the microneedling procedure is finished, PRP will be massaged into the treated skin. The channels created from the microneedles help the PRP be absorbed by the deeper layers of the skin to give you tighter, more rejuvenated skin.
What Can Microneedling Achieve?
Unlike many other skin rejuvenation treatments, microneedling (whether with the use of the Lutronic® Genius™ RF system or PRP) can be used on various areas of the body in addition to the face.
Microneedling can safely and effectively be used to correct skin imperfections and age-related concerns on the face, neck, arms (including the underarms), abdomen, and legs (thighs and knees).
Radiofrequency microneedling can help to erase those skin blemishes that cause you to feel self-conscious, such as:
Wrinkles
Fine lines
Scars (including acne scars)
Mild to moderate sagging skin
PRP microneedling helps you recover quicker so that you can enjoy your stunning results, which can include improvement to:
Wrinkles
Fine lines
Stretch marks
Mild to moderate sagging skin
Uneven skin tone
In addition to a more youthful and rejuvenated appearance, a microneedling treatment at Hochstein Medspa can help patients feel more confident with the way they look. This can help women and men live a fuller and more active life that they can feel proud of.
There's no reason to put off living your best life while looking your very best!
Learn More About Microneedling in Miami
Dr. Hochstein offers Lutronic® Genius™ RF and PRP microneedling treatments in Miami. If you are interested in improving the quality and appearance of your skin, then schedule your consultation today by calling (305) 931-3338 or by filling out our online form.