How Soon Will My Double Chin Disappear?
Posted March 01, 2021 in KYBELLA®
3 Minute Read: 
TABLE OF CONTENTS
What Should I Expect After KYBELLA®?
What Are the Side Effects and Risks of KYBELLA®?
These days, social media has taken over, and cameras are everywhere. This makes our appearances more important than ever before. 
For many people, the best way to deal with always being on center stage is to improve their appearance with cosmetic enhancements.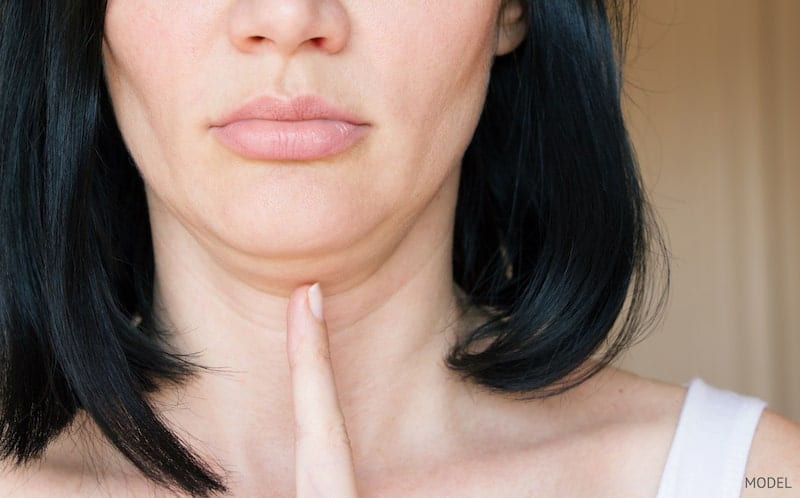 Dr. Hochstein and Hochstein Medspa offer a variety of cosmetic treatments to rejuvenate, sculpt, and refresh your appearance, from plastic surgery to non-invasive treatments. 
These treatments are all designed to target particular aesthetic concerns. One of the most complained about traits is the double chin.
What Is KYBELLA®?
KYBELLA® is a non-invasive treatment used to reduce excess fat under the chin. Submental fat can be tough to treat with diet and exercise. KYBELLA® is less expensive than other fat removal treatments and offers long term results compared to most other treatments. 
During the KYBELLA® treatment, patients are given one or more injections. These injections will be placed to affect the maximum amount of submental fat. 
But, what happens after my treatment? 
What Should I Expect After KYBELLA®?
First Day
Immediately following treatment, you will likely experience some degree of swelling in the treated area. This is your body's natural response, and it should not alarm you. 
You may treat under-chin swelling with ice packs or specialized compression garments. 
First Three Days
Around this time, the swelling will likely reach its peak. Post-treatment therapies may include hot compresses and anti-inflammatory medications. 
Most patients will be fully capable of working, regardless of swelling. If the swelling is severe or causes other issues, such as trouble swallowing or open sores, be sure to contact our medspa staff right away.
First Week
Most of the pain and discomfort caused by the swelling should be gone by this point. 
For most patients, swelling will begin to fade within one to two weeks. Any skin redness or numbness that may have occurred should fade. 
Second Week
Recovery should have mostly occurred by this point, and initial results may be visible for some patients. If any moderate side effects, like redness or numbness, persist, please contact our medspa staff. 
Fourth Week
By the fourth week, patients should evaluate their results and determine if they need additional treatments. 
While more than half of all patients in clinical trials desired a full six treatments, some patients may be satisfied with fewer treatments. 
KYBELLA® treatments should be spaced at least four weeks apart. This gives the body time to metabolize the fat broken down by the previous treatment. 
What Are the Side Effects and Risks of KYBELLA®?
KYBELLA® treatments are FDA approved and safe; however, the injections can cause some side effects. In addition to swelling, redness, and numbness mentioned above (most of which will fade quickly), KYBELLA® treatments may also cause:
Minor nerve injuries

Minor muscle weakness

Hair loss in the treated area

Open sores

Infection

Tissue necrosis
These conditions are rare, but you should contact our medspa right away if you experience any of them.
Want to Learn More About KYBELLA®?
If you would like to improve your appearance or learn more about KYBELLA®, please call our Miami office to get more information. You can reach us at 786-802-6699 or fill out our online contact form.
If you would like more information about other kinds of non-surgical procedures that can improve your appearance, please visit the Hochstein Medspa website.